"A Bicycle built for two….I mean one….I mean two"

They say imitation is the greatest form of flattery. If that's true, then I'm not sure how to take the fact that it took 17 years for another company to imitate our unique Rodriguez 8-ball design.
Last week, a couple flew in to Seattle to visit our shop. They had recently attended a trade show where a manufacturer was displaying a tandem design that, through the use of S&S couplings, could convert into a single bike. Not only that, but when asking around, they discovered that even another company was talking about introducing a similar design. Now, as you may or may not know, we don't attend trade shows anymore, but none-the-less I was surprised after all these years to hear that other companies were attempting this challenging design. After noticing that the hits on the Rodriguez 8-ball page were about 20 times their norm, I thought a blog post was due.


Mike and Angela kick into high gear on their 2005 Rodriguez 8-ball
---
Evolution with intelligent design:
The first Rodriguez 8-ball was built in 1997 (that's seventeen years ago as I write this article) and put in our printed catalog for 1999. Over this course of time, we have learned a lot on how to improve the design, and even evolved two more completely different 8-ball designs that accommodate different needs and desires of the 8-ball customer. I'll cover the different frame designs and their features later in this post, but first let's step into the wayback machine and study the history of this bike….or should I say bikes.

The history of this design:
As with most Rodriguez unique creations, there were several minds involved to come up with this design. We first started using S&S couplings to make travel bikes in 1996, and it dawned on me that we might be able to make a single/tandem convertible using these. I talked it over a bit with Matt, our head builder at the time, but we couldn't resolve how to get the rear triangle connected effectively….and then what to do with the cables and getting them to be a seamless transition….etc… We put the idea to rest until John (our head mechanic in the mid 1990's) showed me a drawing of a bike he wanted to have us build the he could use for travel, tandem, single, and bikepacking. There it was! He had drawn up a sketch of a frame that converted from single to tandem and solved the rear triangle issues. We built the bike, and solved the cable transitions as we built, and it all worked out perfectly. That year at Seattle Bike Expo (we used to do trade shows) John spent the weekend demonstrating this unique creation as he converted it to tandem, to single, and back again for the show goers.
Round 2:
About this same time, Author/Adventure cyclist Willie Weir was planning his trip to Cuba. Willie planned to take something extra along with him on this trip…..his new wife. They wanted to ride a tandem through Cuba. "No problem there" we said, "we can make a travel tandem for you to take on the plane." "There is a problem though" Willie said, "It will just be by myself for the first leg of the trip, and Kat will join me later". "What will I do with my single bike when she shows up with the tandem?" Little did he know, we had already solved his problem. I told him about the Rodriguez 8-ball that we had built for John, and he was intrigued. So, we sketched up a bike for them that he could ride as a single for the first leg of the trip, and then Kat could join him mid way and they could continue on through Cuba via tandem….8-ball style.
Willie tells the story of the salivating faces of the cab drivers in Cuba as an American woman shows up with a large box, and here's Willie to pick her up at the airport on just a bicycle! The cab fair from Heaven, right? Wrong. You see, the box that Kat was carrying contained her luggage and the center section of their new Rodriguez 8-ball. Imagine the surprise on the cab driver's faces as Willie takes his bike apart and adds the center section. After a few moments, they load the panniers on the freshly converted bike and ride away (waving to the cab drivers). Willie says that the drivers actually all applauded as they rode past. Read more of Willie's adventures in one of his fascinating (and funny) books available at willieweir.com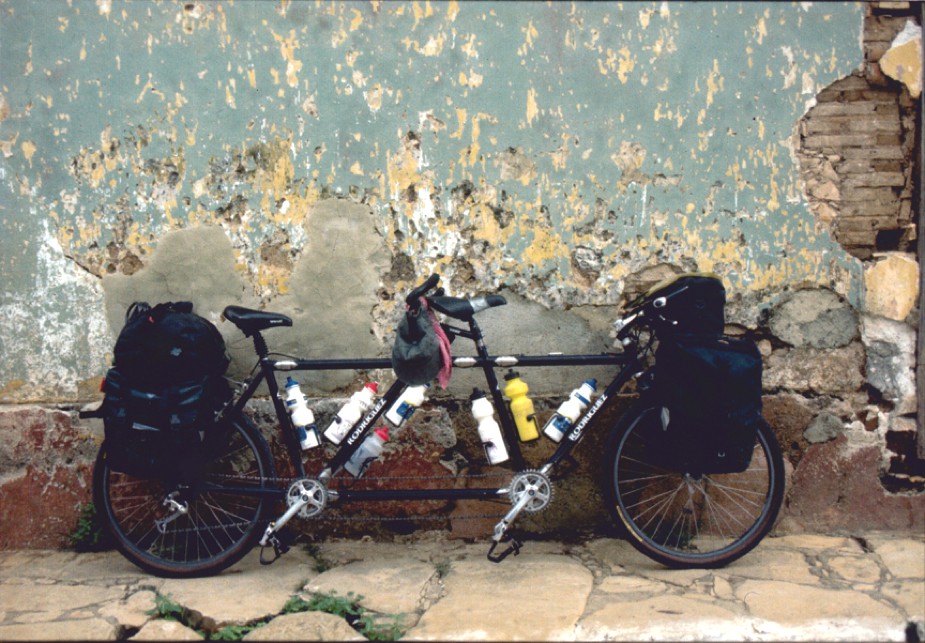 Willie and Kat's 8-ball in Cuba (1998) looking much better than the building behind it.
---
More 8-ball fun:
After Willie's bike, we built several more 8-ball convertibles. Each one different from the last. In 2003, we had one of our 8-ball customers call up and ask if we could build a third section for their 8-ball…making it a triple, double, single. "Why not?" I said, so off we went. It was fun, and a lot easier than we thought to make the 3rd section work well. Here's a few shots of it.
After the conversion to triple went so well, we had a small flood of x-tra long bikes that were also convertibles. We did a couple of 3/2 convertibles, a 4/2 convertible, and my 4/3/2 convertible. We even did a 5/4/3/2 convertible.
Focus Please
But I digress. This article is about tandems that convert to singles. A subject that we know a lot about. As time went on, the Rodriguez 8-ball became a cult favorite. Each one dawned its own nickname….like Brian and Sue's 'Mama Cass'…or Charles and Rose Ann's 'Study in Orange'.. or the 'Trickel Nickel'. I can't leave out Mike and Angela's 'Big Blue'. I could go on and on about the fun customers that have Rodriguez 8-ball convertibles.
Even though the 8-ball was a success, there were customers who wanted one that couldn't get one because of sizing restrictions. These restrictions brought about 2 new Rodriguez 8-ball designs
Why a new design was needed:
The one problem with the original design was the fact that the riders had to have similar saddle heights in order for the design to work properly. If not, then either the stoker had no stand-over clearance, or the captain's seat couldn't be raised high enough. The top tube had to be level. For a lot of people, this is fine, but for others, this didn't work well.
In a traditional tandem design, we slope the top tube in order to give more stand-over clearance for the back rider, and get the seat tube long enough for the front rider. Over the years, I had drawn up a couple of frame designs that addressed this issue and had them ready for when someone needed that solution. It wasn't until 2009 when we had our first taker on one of the new designs.
You can see a comparison of the 3 different Rodriguez 8-ball designs here.
In these two new designs, the rear triangle detaches and and re-attaches to the captains seat tube. This means that we can slope the top tube like a standard tandem, and the rider's seat heights are completely un-important in the frame design any longer. There are ups and downs of each design, but suffice it to say that any of these designs are a challenge for any builder to execute well.
Here's an example of design #2 that we built in 2009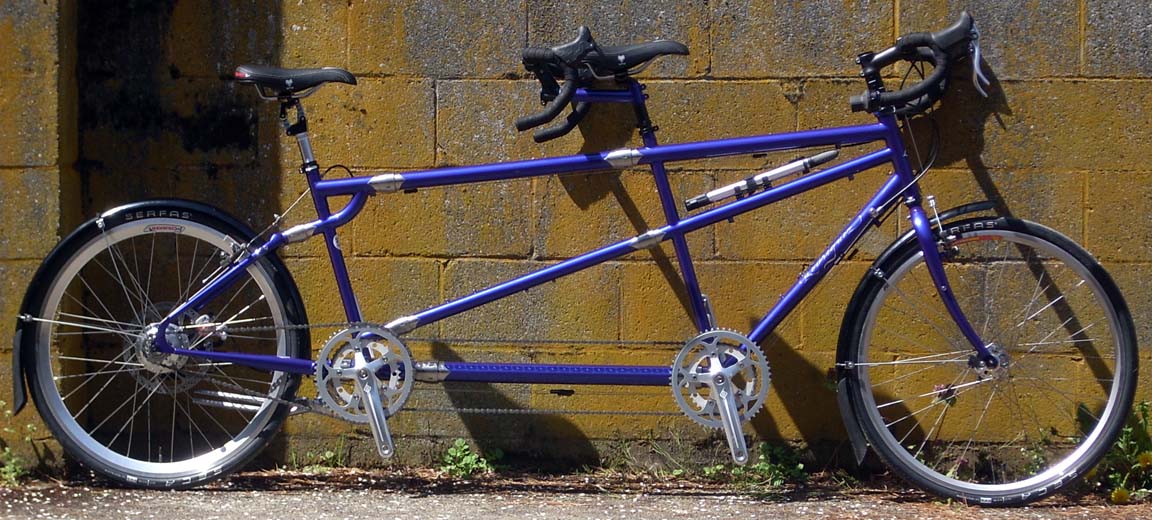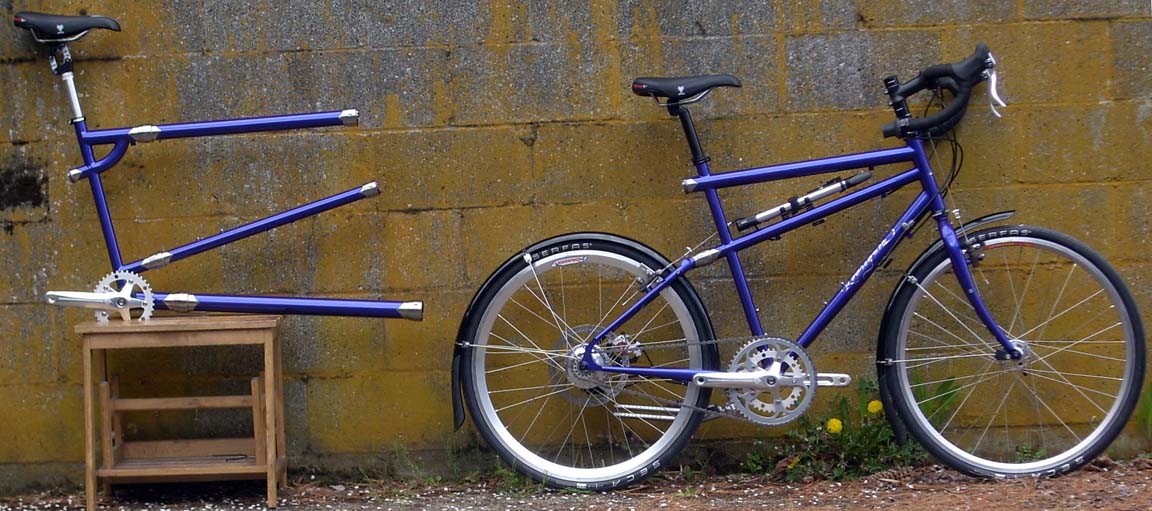 Conclusion
I wrote this article to explain how this bike came to be, and show the evolution of the design. I think that it's worth mentioning that this is a very challenging design, and each 8-ball is a completely unique creation. While we welcome other manufacturers to the party, we want to let the general public know that the convertible tandem/single is not a new creation, but has been alive and well for 17 years now at Rodriguez Bicycle Company.
The attention that's being paid to it now is long overdue I say. Thanks John, Matt, David, Todd and Dennis for all your contributions as well as all the other team members here at Rodriguez who've put in the time and thought to make these incredible designs successful. We wish all of our 8-ball customers many years of happy cycling! And to those of you in the market today for such an animal….why not consider the most experienced team in the industry to build your Rodriguez 8-ball convertible?